Ella Micalsen – fishing guide, coach and Duracell Bunny
I first met Ella in September 2020. That was in Eriksberg, at a photoshoot for Linder. One thing was immediately clear. Ella has great energy. She has converted this into a life full of variety and excitement. A host of interests has been partnered by a good number of challenges.
Now, almost a year later, we are busy (very) chatting. Although Ella is in the middle of starting a company, the focus today is on chanterelles.
"As a fishing guide for so many years at mushroom time, it's been ages since I could harvest the forest's bounties."
Topical but, as far as we can, let's tell her story from the beginning.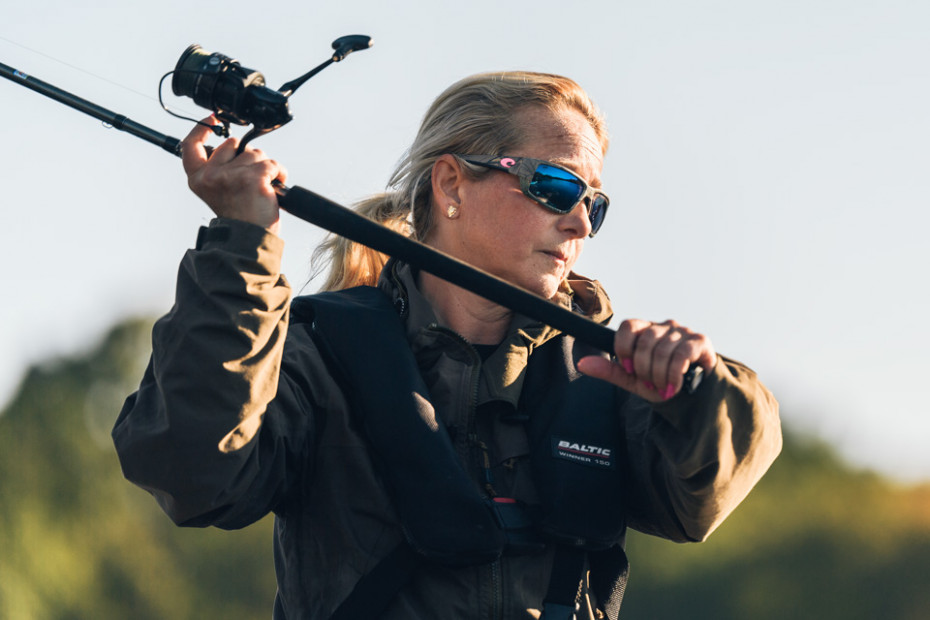 "I've been driving boats since I was 4!"
Yes, boats feature prominently. Ella has wide experience as a qualified deck officer for boats of up to 20 tonnes*. This was a requirement for the years devoted to being a fishing guide. We frequently return to this in our conversation.
There was boat racing too. Swedish Thundercat championships, national champion in her class, the Roslagsloppet race... Ella thrived as a competitor.
As we chat, it becomes increasingly evident that Ella is passionate about wellbeing and everyone having a good life. Achieving this sometimes requires support. To this end, Ella qualified independently as a holistic development coach and has met many people in this role. She combines it with her great love – fishing.
Right from the very start, meeting people was intended as a related, but slightly different, career path. On becoming a fully qualified practitioner of traditional Chines medicine and acupressure, Ella's life took a new turn. One day, she was run into at traffic lights. Serious whiplash injuries entailed months in convalescence and, finally, the realisation that some of the work in being an accupressurist involved too much strain for her. She had to reconsider and reshape things.

"I decided to become a fishing guide!"
There followed fishing guide programmes and courses at Tornedalen's independent adult education college as well as youth leader training from Sweden's Sport Fishing and Fish Conservation Association. It was then time to pull on the thinking cap. Ideas crystallised and Ella started to explore the opportunities for disabled people to experience the magic of fishing and the countryside.
"No so many. Well, none at all!"
A sketchpad was soon full of, amongst other things, an imaginary lake with ramps adapted for wheelchairs. This was how Ella came to combine her boat and fishing interests with coaching. Her guiding also took on yet another dimension, namely, inspiring more women to face the challenges and get out onto the water. Further ticks on her CV include fishing guide and camp manager in northern Norway (the Røstøyan islands in the Lofoten archipelago).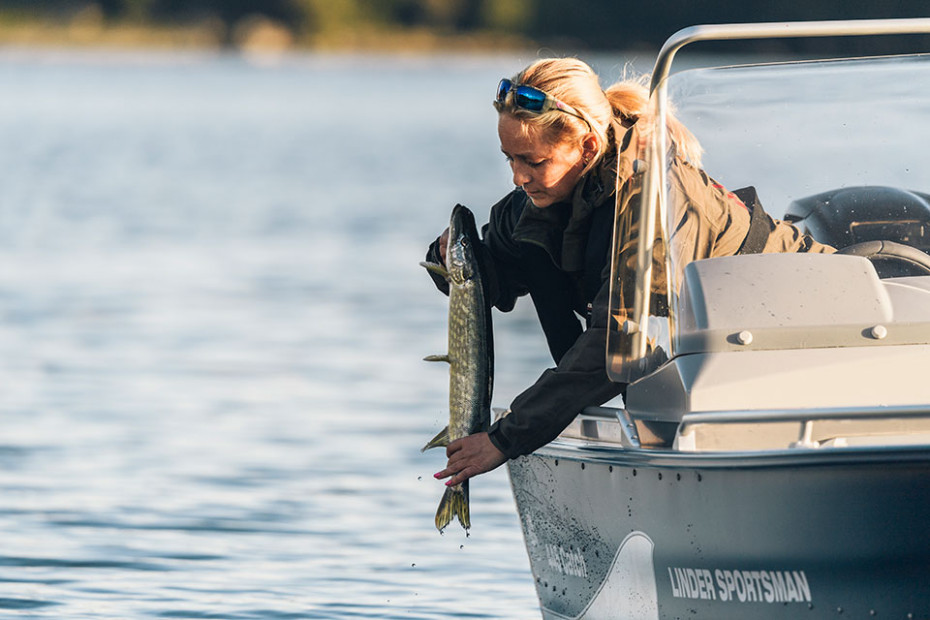 Fun fishing?
Ella's vast interest in fishing emerged in our forty-eight hours in Eriksberg. The daylight was a little too bright for the pike to be biting well. So, with cameras being put away at the end of day two and the sun sinking to the horizon, Ella continued the hunt along with another fishing celebrity, Evelina. In two days of targeted fishing, these stars totalled some 20 catches (and releases).

I ask about 'fun'. Does she sometimes catch fish that end up on the table? Ella answers in the affirmative. Good, yours truly feels slightly better acquainted with that sort of fishing. It leads us into talking about various types of sport fishing.
"I have a new passion – touch ledgering!"
She names some west coast wrasses that are unknown to me (ballan, brown and cuckoo). A little later, she mentions some more familiar flatfish. Just around the corner, there is the Øresund Fisherman's Cup, a flatfish competition for ledger fishers.
"I'll have to stand on tiptoe the whole time. The railings are too high for me."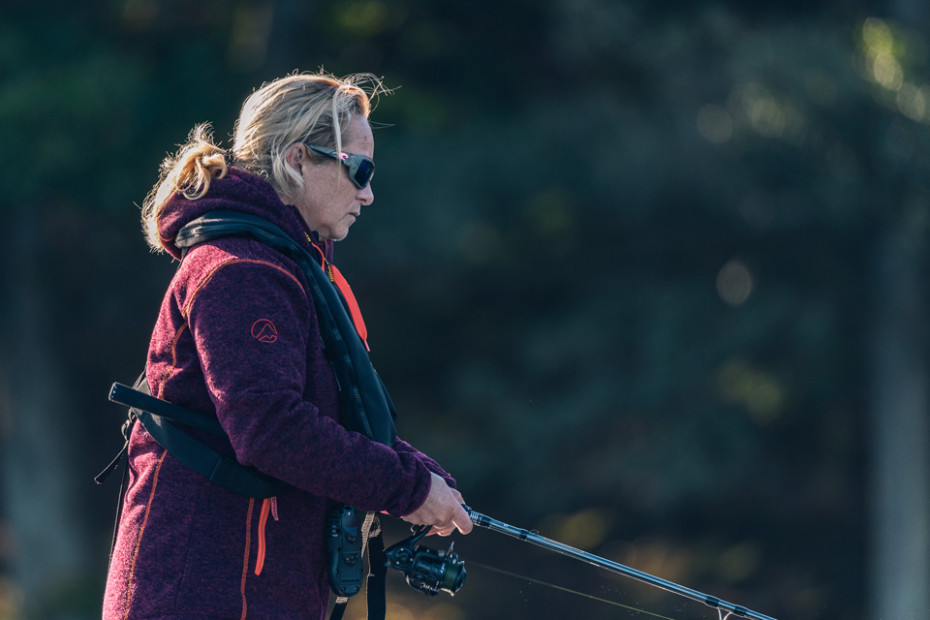 New company...
The sketchpad has now been replaced by a computer keyboard. Ella is writing a business plan.
"The timing feels right. People are finding their way back into the open air... after the pandemic."
She relates how she has had good support from NyföretagarCentrum (an organisation that helps start-ups) and a mentor. I ask the obvious follow-up question: what will Ella's company be offering?
This triggers her loquacity. It is apparent that, for example, she will be focusing on the countryside and wellbeing. Ella's words include "outdoor", "Northern Light trips" and the obvious "fishing", "coaching" and "personal development". She also mentions offerings to attract groups of women. For the time being, she does not intend to reveal the name of her company.


Thus, I ask some questions about her 'leisure time' and immediately suspect it is not really something that can be isolated in Ella's life. For her, 'leisure' and 'work' are more like communicating reservoirs.
"Well, I'm writing a book. It's about personal development."
This confirms my suspicion. Ella then also mentions that she's a singer-songwriter.
In response to my 'Aha!', she adds that, being therapeutic, songs and music are yet more tools for promoting own and others' wellbeing!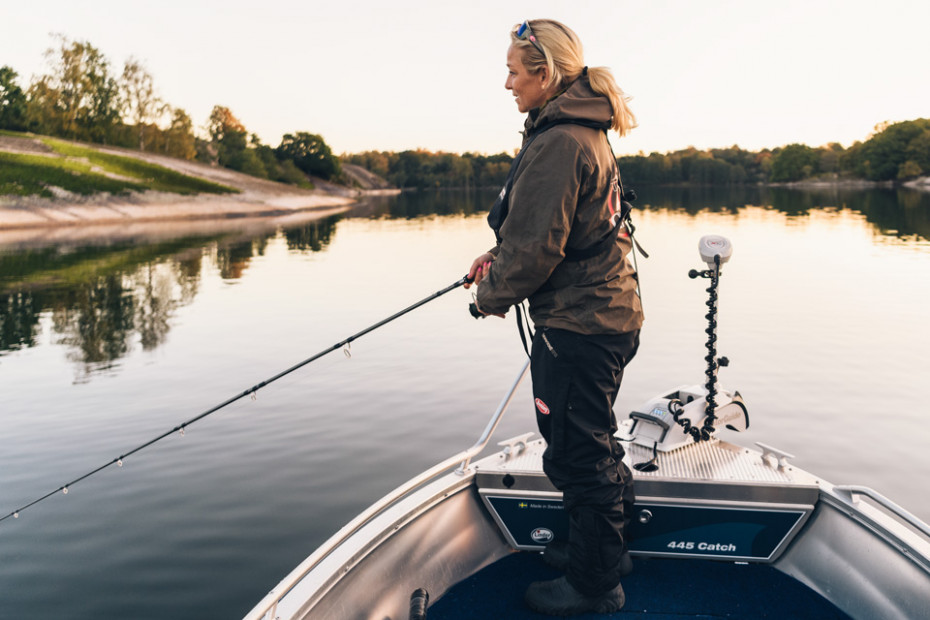 Arkip 460 and a Honda
Talking with this Duracell Bunny is so interesting that I nearly forget the theme for our meeting – Linder!
"It's really cool to be, in my own way, a part of Linder."
She discloses how much value she puts on Linder being a family company: "The name in itself is a mark of authenticity and quality."
Ella has a specially equipped Arkip 460 with a 50 HP Honda outboard motor. She enthuses about the boat's "seaworthiness", "ruggedness" and, in particular, how she can: "Handle it easily alone, get it on a trailer and launch it off the west coast or in a lake. The draft is shallow too!"

* Deck Officer Class VIII: can command vessels of six metres or more in length with a "gross tonnage" of 20 tonnes and take a maximum of twelve passengers aboard on internal routes.