Linder's products rest on, and spring from, a rather robust philosophy shaped by many generations of thrifty, down-to-earth people. We produce "smartly". Little is wasted. A "trend" that has been a centuries-old way of life in the region where we work. Furthermore, we make our boats and canoes from a material that can be recycled time after time – aluminium.
THE WORLD'S MOST COMMON METAL
Aluminium is extracted from bauxite and is the most common metal in the Earth's crust. Its wide availability has made it popular for many uses. Everything from foodstuffs packaging and cars to aircraft and boats. Despite its availability, aluminium, unlike plastics, has its own "cycle". Producing aluminium from bauxite ore requires a lot of energy. However, as early as when it comes to be recycled for the very first time, aluminium is already more energy-efficient than other materials.
Aluminium has many design advantages. It is light, but strong. Not least importantly, it does not corrode easily.
A FORM-STRETCHED HULL
Aluminium has yet another major advantage as regards, for example, designing bodywork, beams and, as here, hulls – it is exceedingly formable.
Linder aluminium boats are made using so-called "form stretching". The sheet metal for the hull is shaped (stretched) around a form. This form produces the familiar, soft and harmonic lines that constitute one of our trademarks. This forming technology saves energy because it tempers most of our aluminium alloys. Consequently, the sheets do not need to be heat hardened.
Where other manufacturers use welding, or in the worst cases, riveting to join hull sections, Linder has a different approach. We join both sections using screws and a unique keel profile. The seal is so precise that, as neither light nor oxygen can get to the sealing compound, there is no ageing. Our production methods give a superior finish that has fewer joins and thus reduces the risks of leaks and wear.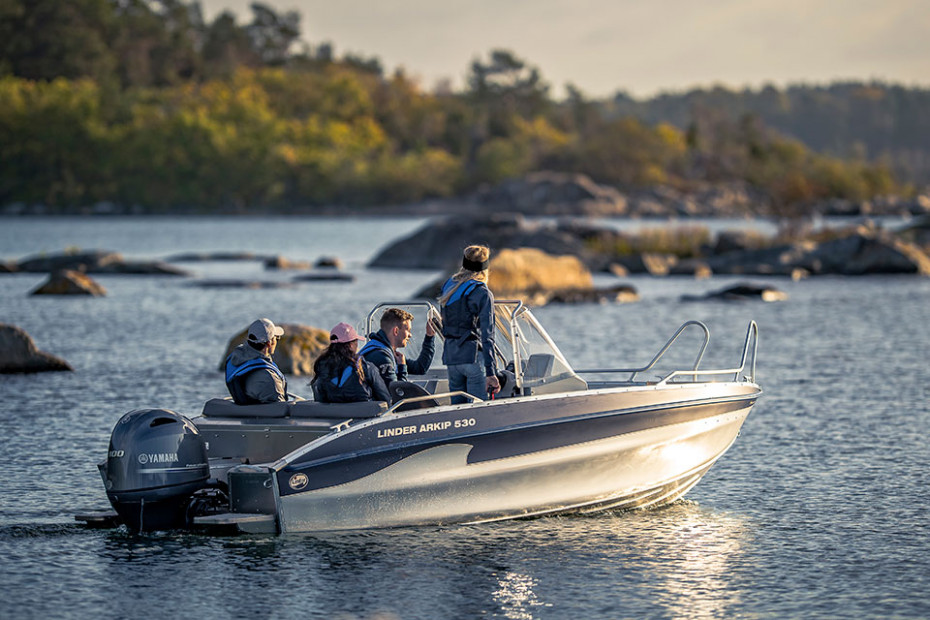 STABLE, SEAWORTHY AND SAFE
Our combination of well-chosen material and well-designed hull profiles means that our boats are extremely seaworthy. Years of feedback from satisfied customers and masses of tests by, amongst others, the boating press, testify that our boats are appreciated for their stable and safe design.

A NATURAL CHOICE
Today, we make boats (in two different classes) and canoes. Our boats and canoes have much in common. They are extremely seaworthy, unsinkable and, nonetheless, light. A Linder boat gives you more speed with less horsepower. This is guaranteed by aluminium's unique properties in combination with our hull profiles.
Our range include boats driven by motors from 2.5 hp to 100 hp – speeds from a few knots to a full 38. No matter what your needs, we can meet them with slightly smaller motors!